Unlock the World with Insight: Delving into the Pakistani Passport's Global Ranking and Travel Strategies. Learn how geopolitics, security, and economics shape the passport's strength.
In the realm of international travel, a passport is the key that unlocks opportunities, adventures, and experiences. It's not just a document but a gateway to explore the world. However, not all passports are created equal, and the Pakistani passport, in particular, has garnered a reputation as one of the world's weakest. In this comprehensive article, we delve into the various aspects that contribute to the Pakistani passport's global ranking, its implications for travelers, and how to navigate its limitations.
Understanding the Henley Passport Index
To comprehend the ranking of the Pakistani passport, it's crucial to acquaint ourselves with the Henley Passport Index. This globally recognized index evaluates the strength of passports from countries across the world based on the number of destinations their holders can visit visa-free or with visa-on-arrival privileges. The higher the index score, the more powerful the passport.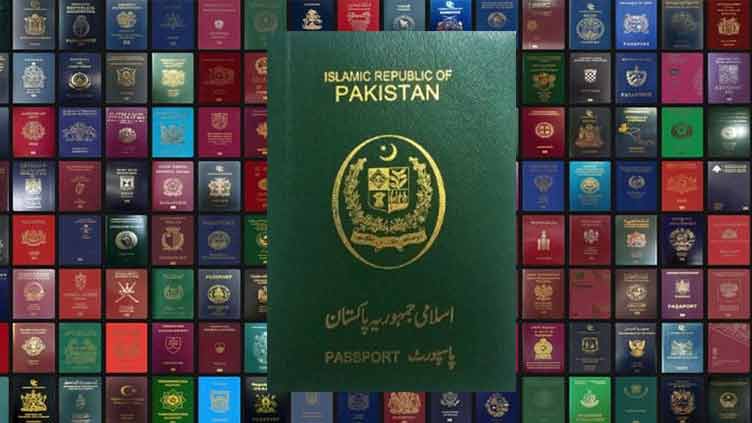 The Pakistani Passport Ranking
As of the latest available data, the Pakistani passport holds a ranking that positions it among the lowest in the Henley Passport Index. Pakistani passport holders have limited visa-free access to a comparatively small number of countries. This ranking is primarily influenced by various factors that warrant exploration.
Geopolitical Relations
The diplomatic relationships that Pakistan maintains with other countries play a significant role in determining the strength of its passport. Tensions or political disputes can result in fewer visa-free privileges for Pakistani passport holders, limiting their travel options.
Suggested For you: Teachers and Clerks' Strike in Pakistan
Security Concerns
Countries often extend visa privileges based on security and safety considerations. Due to security concerns, many nations may require additional scrutiny or documentation when Pakistani passport holders apply for visas, further restricting their travel opportunities.
Economic Considerations
The economic stability and development of a country can also impact the global ranking of its passport. Economically robust nations tend to have passports with greater travel privileges, while economically challenged countries, like Pakistan, may have passports with more restricted access.
Passport Strength and Diplomacy
Improving the global ranking of the Pakistani passport requires a multifaceted approach. Diplomacy, international relations, and bilateral agreements can pave the way for enhanced passport privileges. Strengthening diplomatic ties, resolving disputes, and fostering positive relations with other nations can open doors for Pakistani passport holders.
Travel Strategies for Pakistani Passport Holders
While efforts to enhance the ranking of the Pakistani passport continue, those who hold this passport can still explore the world by adopting strategic travel approaches. These strategies include:
1. Visa Planning
Extensive visa planning is essential. Research visa requirements well in advance and apply for visas in a timely manner. Careful planning ensures a smoother travel experience.
2. Visa-On-Arrival Destinations
Identify countries that offer visa-on-arrival privileges for Pakistani passport holders. These destinations can be more accessible and less restrictive for travelers.
3. Dual Citizenship
Exploring options for dual citizenship in a country with a more powerful passport can significantly broaden travel opportunities.
What is the Future of the Pakistani Passport?
The future of the Pakistani passport holds the potential for change and improvement. While it currently faces limitations in terms of global ranking, there are opportunities for enhancement. Diplomatic efforts, economic growth, and geopolitical relations can play pivotal roles in elevating the status of the Pakistani passport. As the nation continues to build stronger alliances, resolve disputes, and work towards greater stability and development, there is hope that the passport's global ranking will see positive shifts in the coming years. Additionally, an increased emphasis on security measures and international cooperation could lead to a more favorable outlook for Pakistani passport holders. As the world becomes more interconnected, and nations seek collaboration and open borders, there is optimism that the Pakistani passport's future may hold greater travel privileges, unlocking a world of opportunities for its holders.
Conclusion: The Path Forward for the Pakistani Passport
In a world where passports serve as the gateway to global exploration, the Pakistani passport has faced its share of limitations. We've dissected the various factors influencing its global ranking, from diplomatic relations and security concerns to economic stability. While the current status may be challenging, there is room for hope. The future of the Pakistani passport is not set in stone. Diplomatic endeavors, economic growth, and collaborative efforts can pave the way for improved passport privileges. As the world grows more interconnected and open, there's optimism that Pakistani passport holders may yet experience a future with broader horizons and greater travel opportunities. The journey towards a stronger passport has begun, offering a glimpse of a world filled with unexplored adventures and endless possibilities.