The concept of the Metaverse has been gaining immense popularity recently, primarily due to its depiction in popular culture and advancements in technology. It's an expansive digital realm that promises to change the way we interact, work, and play. In this article, we'll delve into the Metaverse, exploring its technology, its potential applications, and the challenges it presents.
Metaverse technology
The idea of the Metaverse has been portrayed in various movies, books, and video games. It's often depicted as a parallel digital universe where users can live out alternative lives, interact with others, and create unique experiences. The Metaverse concept has sparked the imaginations of many, and it's becoming a reality in the tech world.
The Technology Behind the Metaverse
Virtual Reality (VR)
Virtual Reality is a crucial component of the Metaverse. VR headsets and devices allow users to immerse themselves in digital environments. This technology simulates real-world experiences, and it's a cornerstone of the Metaverse's promise of digital interconnectedness.
Augmented Reality (AR)
Augmented Reality, while distinct from VR, also plays a role in the Metaverse. AR blends digital information with the physical world, providing a unique layer of interactivity. AR glasses and apps are making it easier for users to engage with this new digital frontier.
Also Read: Virtual Reality in Innovation
The Concept of Digital Twins
Within the Metaverse, users typically create digital twins of themselves. These digital twins serve as personal avatars, allowing individuals to represent themselves in the digital realm. The Metaverse also includes virtual environments, such as homes and offices, which users can customize to their liking.
Social Interaction and Communities in the Metaverse
The Metaverse places a significant emphasis on social interaction and community building.
Online Events and Gatherings
Users can participate in a variety of online events and gatherings. These range from virtual parties and networking events to educational seminars and support groups. The Metaverse offers a platform for like-minded individuals to connect.
Metaverse in Education and Work
The digital realm has found applications in education and professional settings.
Virtual Conferences
With the rise of remote work and online events, virtual conferences held within the Metaverse are becoming increasingly common. Attendees can network, attend sessions, and interact with sponsors in a virtual environment.
Remote Work
The Metaverse is also impacting remote work. Virtual offices and collaboration spaces provide a unique environment for teams to work together, regardless of physical location. It's transforming the way we think about the workplace.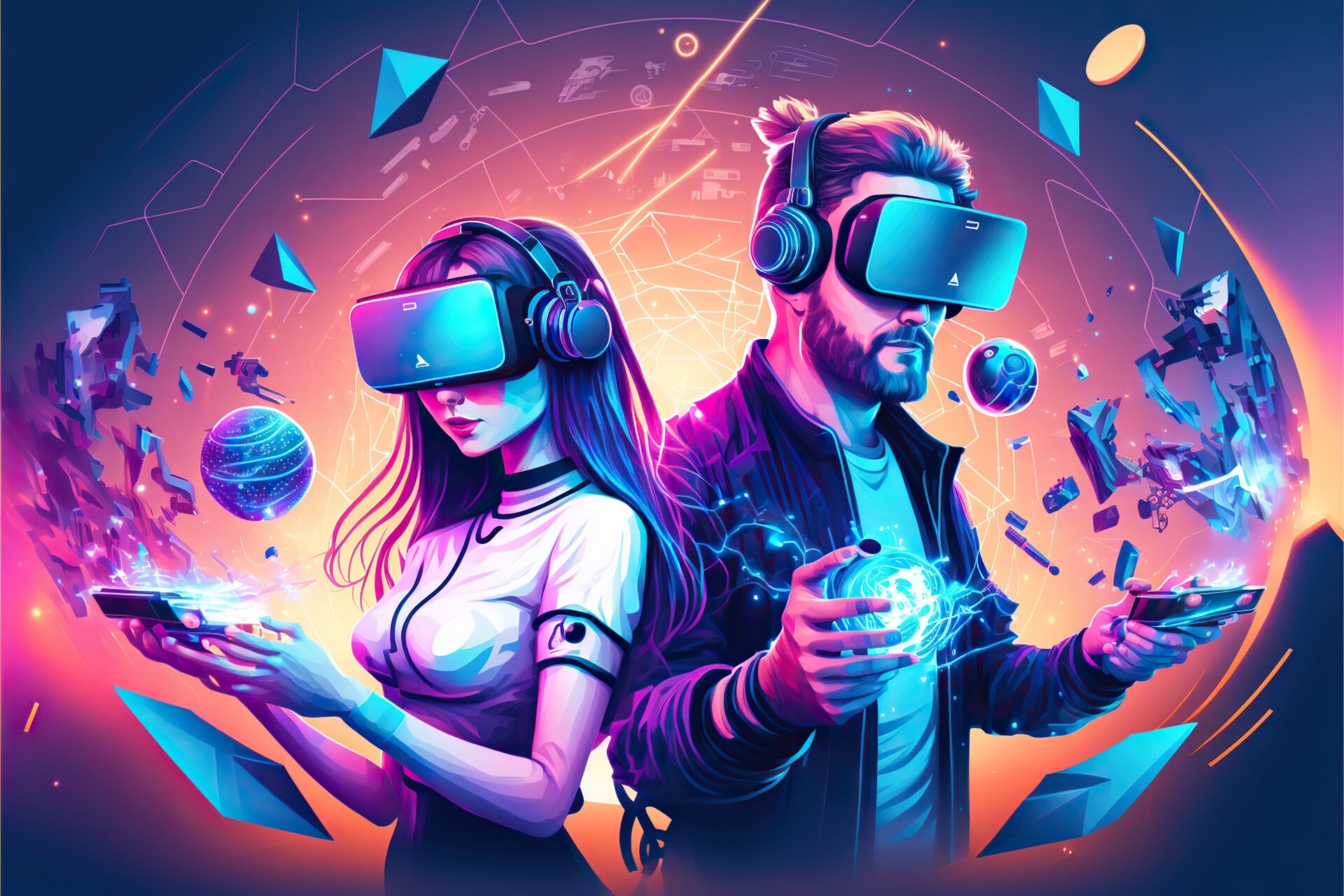 Gaming and Entertainment in the Metaverse
Gaming and entertainment have always been at the forefront of technological innovation.
Virtual Concerts
Virtual concerts have gained immense popularity. Artists and performers can reach a global audience, with fans attending concerts from the comfort of their homes. It's a testament to the immersive experience the Metaverse can offer.
Gaming Platforms
Gaming within the Metaverse offers unlimited possibilities. Users can enter vast digital worlds, interact with other players, and even create their own experiences. It's a realm where creativity knows no bounds.
Challenges and Concerns
The Metaverse presents several challenges and concerns.
Privacy and Security
With so much personal data and interaction occurring within the Metaverse, ensuring privacy and security is paramount. There are concerns about data breaches, identity theft, and the potential for cyberattacks.
Ethical Considerations
The digital world is not immune to real-world problems. Issues like harassment, discrimination, and unethical behavior can also manifest within the Metaverse. Addressing these concerns is essential.
The Metaverse and the Future
The Metaverse is rapidly evolving, and its future is bright. As technology advances, we can expect even more immersive experiences and a deeper integration into our daily lives. The Metaverse is not a passing trend; it's the next stage of our digital evolution.
Conclusion
The Metaverse represents a digital revolution that's transforming the way we interact, work, and play. With its roots in popular culture and advancements in technology, it's becoming a tangible reality. However, it also comes with challenges and ethical considerations that we must address as we navigate this exciting new frontier.
FAQs
1. What is the Metaverse? The Metaverse is a digital realm that aims to connect individuals in a virtual space, allowing them to interact, work, and play using technologies like VR and AR.
2. How does the Metaverse impact education and work? The Metaverse is changing education and work by offering virtual conferences, remote workspaces, and collaboration tools that transcend physical boundaries.
3. Are there privacy concerns within the Metaverse? Yes, privacy and security are significant concerns in the Metaverse, given the amount of personal data and interaction that occurs in the digital realm.
4. Can the Metaverse be used for entertainment and gaming? Absolutely! Virtual concerts and gaming platforms within the Metaverse provide immersive and creative entertainment experiences.
5. What does the future hold for the Metaverse? The Metaverse's future is promising, with ongoing technological advancements leading to even more immersive and integrated digital experiences.